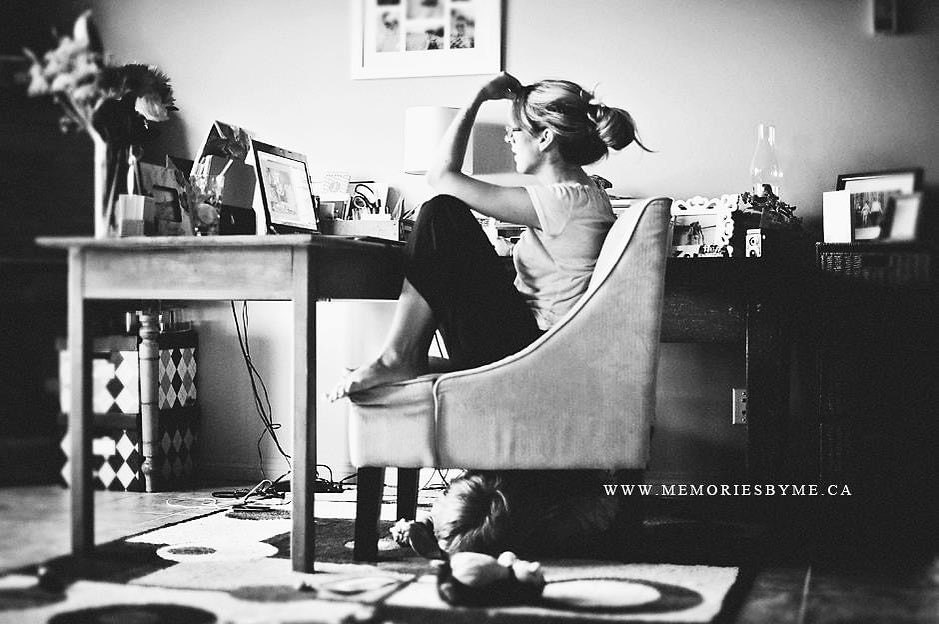 Me. Back in the days of running my own photography business, Jackson under my chair while I edited photos for hours. I was trying to prove to the world that I was "good enough". I loved photography and the privilege it gave me to be able to be home with my kids when they were little. At the time it was a tough industry. They didn't look kindly on "moms with cameras" taking over their industry. And in hindsight I can't blame them. We were charging far less than professionals but thanks to the new world of digital we were able to survive if we were "good enough".
Funny thing is, after years of providing memories to so many I left the industry never quite feeling like I was good enough. Looking back now I see that I was. Were my photos PPOC award worthy? Likely not, but maybe. But that never mattered to me. Were my photos featured in magazines? Some were, but never because I pushed them to be. I didn't really care tbh. My pictures of a Bride with her Grandma or a groom hugging his Mom were never deemed magazine worthy. But I bet those are some of my client's most treasured photos. You see, I never really got into the business because I wanted to be a high end photographer. I just wanted to be home with my kids and do something on the side I was passionate about and have something to call my own. I left the business because I was always doubting myself. The anxiety of it all truly got to me. However, after being out of it for years and now looking back at "my work", I see that I was worthy.
The moral of the story is don't let your self doubt or feelings of inadequacy allow you to quit what you love. If you're passionate about it and it makes you happy, keep going. Keep pushing through and never let the worry of judgement of others, or even your self doubt stop you from doing what you love. I see my work on people's social media, in their homes and even at funerals and I'm proud of having been able to provide them with a lasting memory of their loved one. Today on my way home from work I saw a cute little "sweet 16" sign on a front lawn and I realized the photo on the sign was a picture I took of these two sisters 13 years ago. It made me smile.